At Purr and Miaow we believe that you deserve to know what you are feeding your cat.
When you pick up a pack of Purr and Miaow food you will read ingredients that you recognise. Most of the "Big Pet Food" brands hide behind confusing labelling regulations, such as 'meat and animal derivatives'.. and who knows what that means?!!
When you see the ingredients on Purr and Miaow packs, not only can you be sure that those ingredients are in there, you can also see exactly how much is in the pack.
Many cats don't drink enough water. They are descended from desert-dwelling species, so get a high proportion of their hydration from the food that they eat.
Purr and Miaow pouches are 50% broth, making them a great source of hydration for cats.
The easy way to ensure your cat is getting enough hydration.
+ Free from: Sugar, grains and other junk
You've read that right.... cat food has added sugar. Pick up your normal 'Big Pet Food' brand cat food pouch and you will most likely see 'various sugars' on the back. This is usually in the form of caramel, used to make the "gravy" look browner. Cats can't even taste this, yet we all know about the damage that excess sugar does to our health and our teeth.
'Big Pet Food' brands also pack their foods with grains, fillers and other junk that shouldn't be in a cat's diet. Purr and Miaow only contains good, healthy ingredients to help your cat lead a happy, healthy life.
Did you know that every day we throw away enough pouches to cover the surface area of the UK... Twice!!
Cat food pouches cannot be recycled in your home recycling, but they can be recycled. To find out more about out Purr-cycle scheme click here

At Purr and Miaow we believe that your cat deserves better than the "Big Pet Food" brands deliver. That's why we have developed a 3 point Purromise :
1) No hidden nasties
2) Only good, healthy ingredients
3) Pet health before profits
Feed your cat Purr and Miaow and you can be sure that their health and happiness is in good hands.
+ Vet recommeneded for over a decade 
Purr and Miaow is the cat brand from the maker of Pooch & Mutt.
Pooch & Mutt launched as a canine health supplement company in 2008. We have positive nutrition at our heart and our products have been recommended and sold by vets since we launched.
We know that there seem to be new pet food companies sprouting up everywhere at the moment. We've been around over a decade and seen many come and go. Our continued success is down to the fact that we make the highest quality products, putting your pet's health above everything else.
+ An ethical, award-winning UK company
Pooch & Mutt (Purr and Miaow's parent company) is one of the most awarded companies in the pet food world. Awards and accreditations include:
- Accreditation from PETA (People for the Ethical Treatment of Animals)
- Winner of 'The Ethical Award' for 8 years in a row
- Feefo Gold Award for Customer Service
- 2x Grocer New product Awards
- 2x International packaging design awards
- Winner of 'Manufacturing Entrepreneur of The Year' at the GB Entrepreneur Awards
- Winner of the 'Made in Britain' Award at the Smarta 100 Awards
- Finalist at the National Business Awards
A Small Great British Company
Purr and Miaow is the cat brand from Pooch & Mutt, founded over a decade ago by Guy Blaskey, pictured with his first cat, Ratbag (his parents named her!)
Purr and Miaow is based in Clapham, SW London. It is one of the few pet food companies, where you can call the office and speak to the founder, who is still making the decisions, in the interests of your pets.
Purr and Miaow / Pooch & Mutt works with the top pet food manufacturers in the UK and across Europe, To bring your cats the food that they deserve.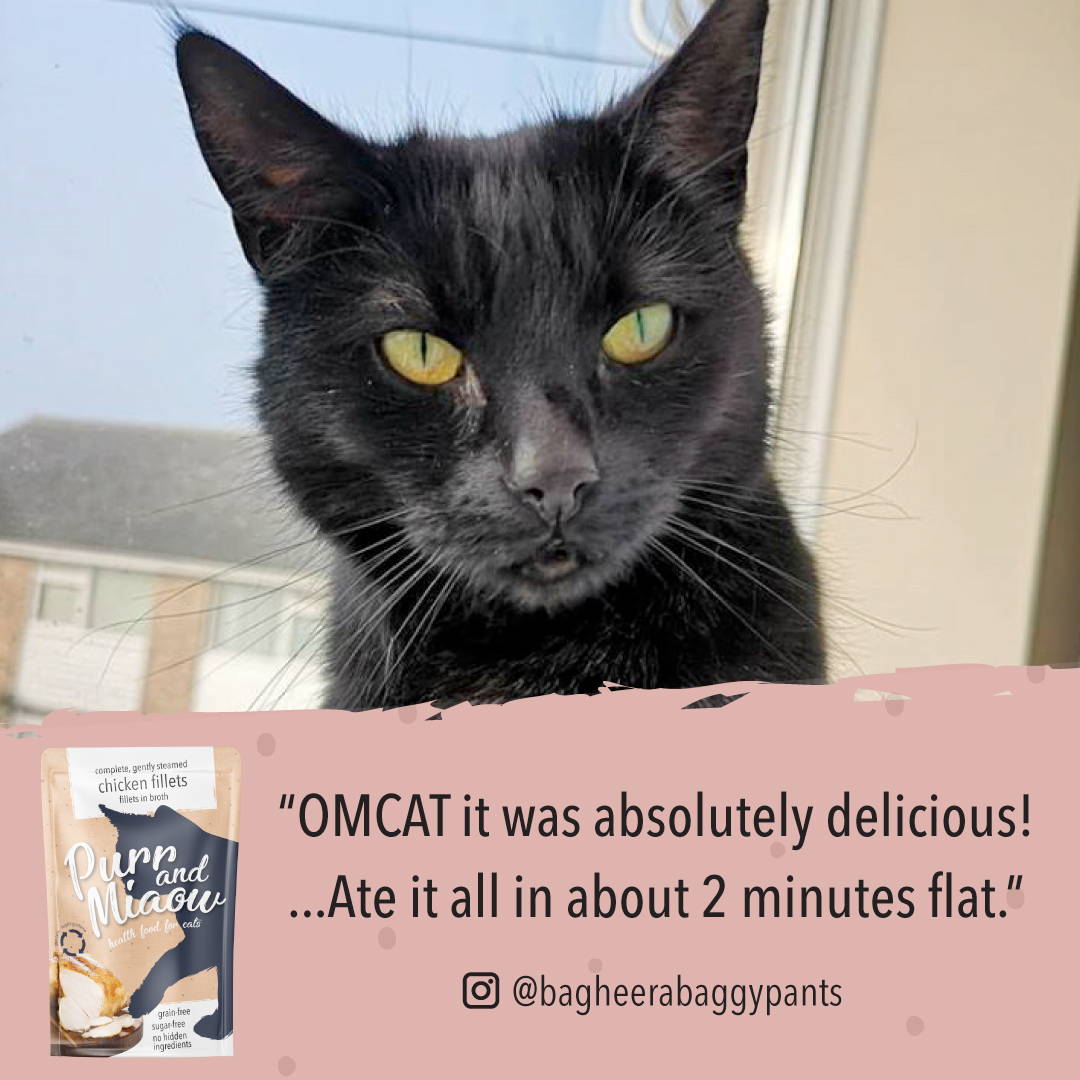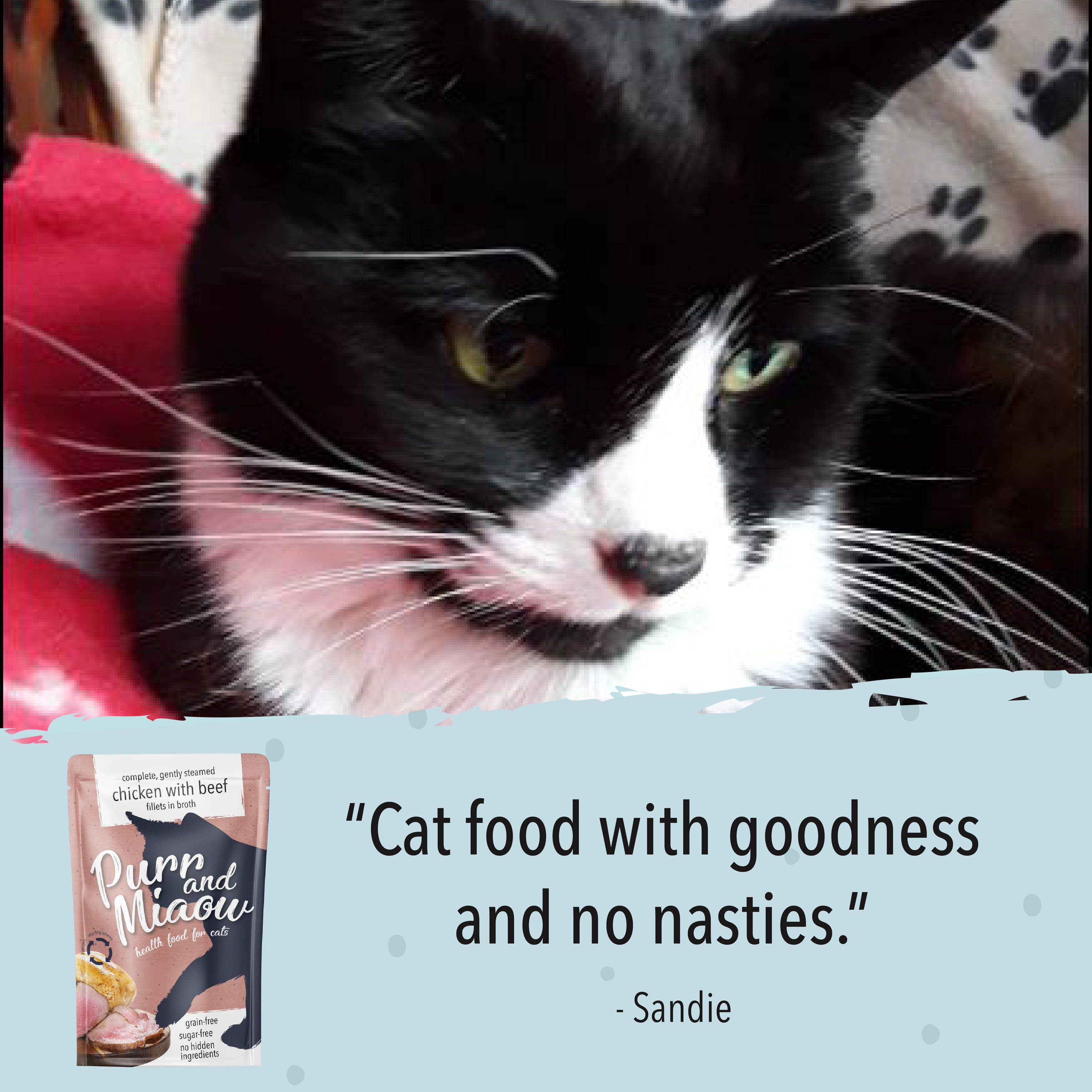 Flavours your cat will love